---
Greetings of Peace (al salamu 'alaykum) dear Friends,
I pray you are well! I am always so grateful when I can share great news and this week, I have lots to share!
First, I must say that we have always been so blessed at the start our virtual Friday prayers to hear the angelic voices of Shayan and Wietske, calling the adhan (the Islamic call to prayer). [Yes, I do perform the call to prayer as well, but I am not a lifetime musician, unlike Shayan and Wietske. I do it on principle because I believe a woman's voice can and should be heard calling others to prayer.] With Shayan and Wietske, truly gifted musicians, their adhans are elevated and other-worldly. Their voices are among their divine gifts that we are blessed to receive. It is such a good feeling to know that every Friday, not only does the khutbah by Dr. Abou El Fadl promise to be spectacular, but that it is always preceded by stunningly beautiful calls to prayer!
So, when the Islamic band, Native Deen, recently announced their Online Adhan Contest to elevate and reignite the love for the call to prayer, I was so excited for our two talented musicians to enter and sweep the competition! :) Unfortunately, I could not convince Shayan to enter (the other contestants should be thanking me) but I was so thrilled to find out that fabulous Wietske was not just selected as a finalist, but was THE ONLY WOMAN to be in the final 19! Just Wietske and 18 other men LOL!  I don't know what Native Deen is going to do, but if it were up to me, Wietske would be the winner! Here is her adhan entry available on YouTube:
Wietske's Entry in Native Deen's Adhan Competition
And just to be complete, here is the link to Wietske's album WITNESS (published by Usuli Music), which includes TWO stunning calls to prayer! https://wietskemerison.hearnow.com/
Wietske's First Album published by Usuli Music!
FIRST SOPRANO!
And even more cool and exciting news regarding Wietske is that she was just accepted into the Columbus Symphony Chorus as First Soprano! Congratulations and Bravo dear Wietske!
ANOTHER "EXCEPTIONAL CONVERTS" CONVO!
Next on the list of good news is that this past weekend, I had the great blessing of adding another installment to our "Exceptional Converts" conversation series, featuring my dear friend, Hiram! Hiram just recently graduated from Harvard Divinity School, and has had a fascinating journey and engagement with seeking God from the time he was a kid. He chose to convert to Islam while he was at Harvard. Check it out here: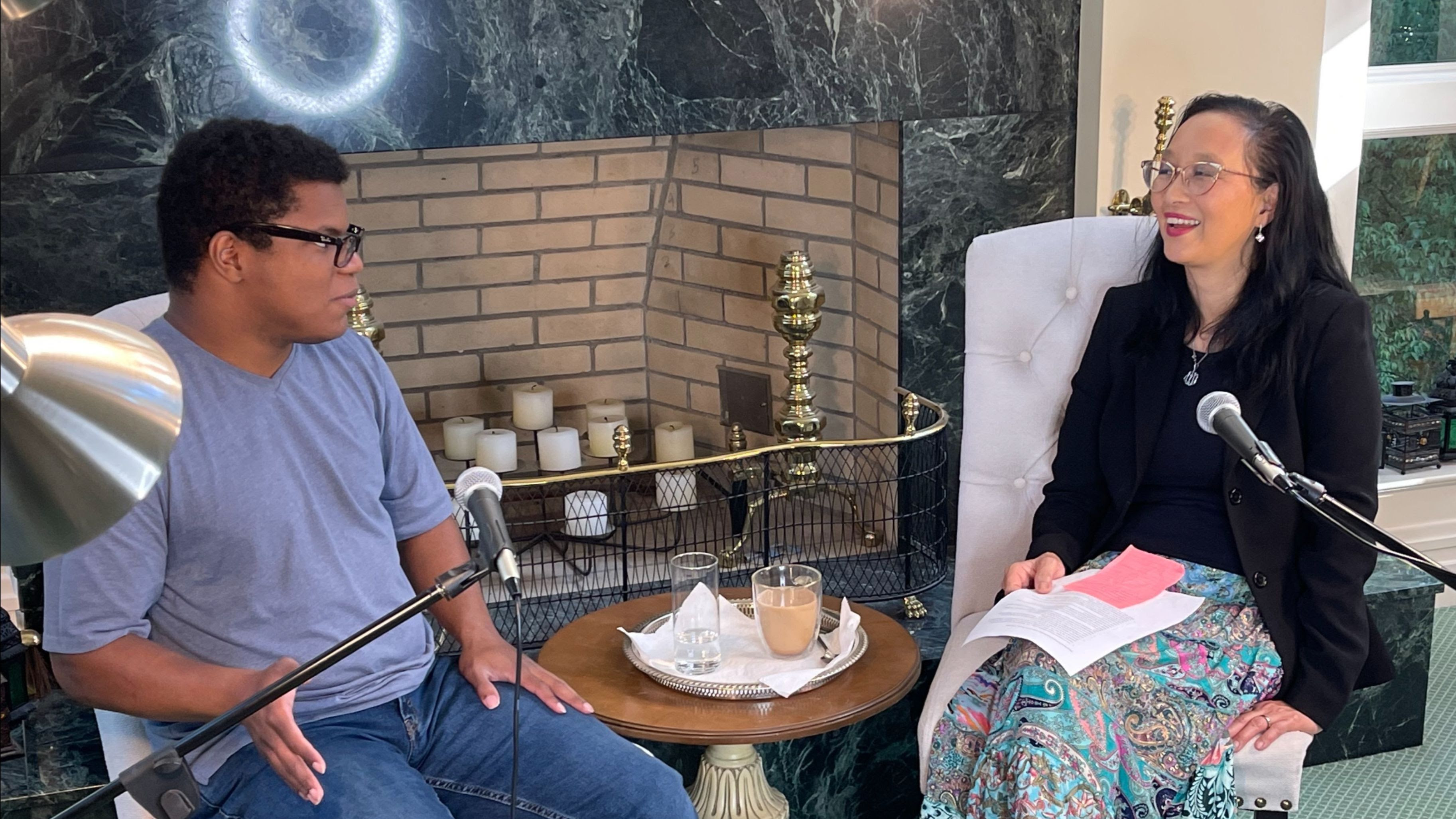 "Exceptional Converts" Convo: Grace and Hiram
The Usuli Institute Conversation Series, 26 Aug 2023
ANOTHER 5-STAR REVIEW FOR THE PROPHET'S PULPIT!
Lastly, we have been submitting Volume I of our new book, THE PROPHET'S PULPIT: Commentaries on the State of Islam to outside reviewers who know NOTHING about us, what we do, or possibly even Islam. I am thrilled with the consistent 5-star reviews we have been receiving, some of which I have previously shared. Here is the latest one from Literary Titan:
"The Prophet's Pulpit: Commentaries on the State of Islam by Professor Khaled Abou El Fadl is a captivating compilation of twenty-two sermons that offers a distinctive interpretation of the Islamic faith. El Fadl compellingly articulates that Islam is not a faith of submission and obedience but, instead, a faith grounded in love, morality, and aesthetic virtue, essentially serving as a beacon of light that triumphs over darkness.
"Drawing from his deep understanding and insightful interpretation of Islamic theology, El Fadl presents Islam as a challenge to 'taghut' – a term symbolizing despotism, injustice, and oppression. He underscores the divine message: never submit or succumb to unjust rule, thus dispelling the myth ingrained in many that absolute obedience to authority is a religious mandate.
In his forthright exploration of intricate and discomforting topics, the author does not hesitate to critique the systemic hypocrisy among the elite in positions of power within Muslim societies. He delves into the tragedy in Yemen, the plight of Palestinians, and the grave human rights violations China committed against the Muslim population. He directs our attention to the atrocities inflicted upon millions of Muslims worldwide, which range from violent acts of murder and rape to human trafficking and organ harvesting.
"El Fadl further dissects the 'colonization of the Muslim mind' and the manifestation of Islamophobia, demystifying the concept of 'dummies of Islam.' He traces the origins of racism to the inception of forensic anthropology and the flawed categorization of humans into races, an act that has invariably perpetuated the notion of white superiority and reinforced this fallacy through imagery such as the 'white Jesus.'
"Reiterating the essence of true scholarship, El Fadl insists on the continual pursuit of knowledge and warns against the ignorance stemming from the presumption of knowing it all. He encourages viewing prayer as a solemn act of worship and devotion to God rather than merely a means of seeking personal gratification.
"Incorporating contemporary issues such as the impact of the coronavirus and the significance of gratitude, the author shares his personal journey of hearing loss, which he perceives as a challenge and a blessing concurrently.
While sermons may often be stereotyped as monotonous or uninspiring, El Fadl's sermons are distinctively invigorating. They possess a transformative power that arouses your senses, making you realize that "God is closer to you than your jugular vein." Reading this book has been an enlightening experience, resonating deeply with my heart and mind and reorienting my perspectives.
At its heart, The Prophet's Pulpit: Commentaries on the State of Islam conveys an enriching message of divine love. It presents the concept of love as the ultimate unifying force, symbolized by the Higgs boson, tying the universe together – a reminder that God's boundless love is at the core of everything." Rating: 5 
THE PROPHET'S PULPIT: Commentaries on the State of Islam
No words can describe how gratifying it is when the message you are trying to put out is played back to you even more eloquently so! Our Share With A Friend Campaign is ongoing, so if you would like to send a gift copy of Volume I to a friend, to a group, or to yourself, send an email to Dalia@Usuli.org!
FINAL THOUGHTS ON LAST WEEK'S REFLECTION IN HONOR OF MIDO
Last week, I wrote an emotional reflection inspired by the event of our youngest son, Mido, heading off to college for the first time, which brought back so many memories and feelings of my own journey from the time I was Mido's age. I received a note from a reader, which asked me what the purpose was of mentioning "pretty white girls" and the "boy with blonde hair and blue eyes"? As a person of color, this reader felt we should give more attention to the pain of racism, colorism, and feeling victim to Eurocentric beauty standards; that it is NOT more beautiful to be white or lighter in features and that God created all features equally beautiful. The reader hoped that at Usuli, we would more frequently address racism and colorism in the Muslim community, for example, the way in which even white converts are treated as more special than darker skinned converts. Point well-taken! In case others had a similar question or reaction, I thought I would share my response to the reader here:
"Thank you so much for your kind message! Yes I absolutely agree that addressing racism, hence the unequal treatment of converts based on race, is critical. The point of mentioning the pretty white girl sorority and the blonde haired blue eyed popular boy was exactly to demonstrate the values with which I was raised by my Asian parents - placing materialism, white privilege, and white values as the ultimate goal and symbol of success. This is the internal compass that I was raised with, which ultimately led me to darkness and which I ultimately abandoned in favor of Islam and a MORAL compass. My wish for my son is the moral compass of Islam as a guide, not a compass that points to materialism, whiteness, and privilege as the ultimate goal, which by definition is racist. I believe that God created us to be morally beautiful regardless of skin color, which means that our job as Muslims is to fight the injustice of racism and embrace the beauty of all of creation. I hope you find this message reinforced in all of our work at Usuli. I apologize if this message was not clear in my writing but hope this clarification helps! May Allah guide and empower us all!"
Wishing you a blessed week full of light, love, and good news! :) Look forward to seeing you online soon insha'Allah! 
In Peace and Hope,
Grace