Dear Friends,

Greetings of Peace! I pray you are well. Here we are embarking upon the last three weeks of 2022. Since Covid hit almost three years ago, I have been particularly bad at keeping track of anything date-related, from birthdays, to what day of the week it is, to sometimes what year it is. The distance of time in my mind's eye is often more a function of the significance and weight of an event rather than the actual passage of time. For example, the very first session of Project Illumine in Ohio in January 2021 feels like eons ago, but I remember the start of 2022 like it was only a few months ago. From what I can gather, everyone has been afflicted to some degree by the time warping effect of the pandemic, and what feels like the shocking speed of time. Nevertheless, I am still a bit embarrassed to admit that it literally just dawned on me within the last 24 hours that Friday, December 9th, is actually the FIFTH year anniversary of The Usuli Institute! Yes, really, our very first halaqa back in Los Angeles, which kicked off this entire journey took place on December 9th, 2017! 

When we started this journey, we didn't really know where it would take us. It is strange to go back and look at the earlier YouTube Videos and see where we started and where we are now. At the end of 2017, our thought was simply to hold monthly meetings where we could gather and talk frankly about the state of Muslims and Islam in America. We wanted to have different conversations - ones that were honest, educated, brave and unafraid to speak truth to power and name names, if necessary. Like so many others, we were frustrated with the status quo. And we were also very affected by the rising tide of Islamophobia, the growing trend of young Muslims leaving the faith, and the feeling that there was no sufficiently compelling voice on the Muslim side to counter the hate narrative coming from all sides, funded by a billion-dollar Islamophobia industry.

So we set out to add an institutional structure to what we had been doing for a long time - trying to amplify the voice of beauty, justice, and reasonableness, and anchor it firmly and deeply in the Islamic intellectual tradition. We had the proof and the evidence before us - we were surrounded by our 100,000+ book library that testifies to an Islam that is completely different from how modern Islam appears to the world. The Islam we know is rich, sophisticated, nuanced, beautifully humane, and divinely inspirational. Yet the Islam we know is not the Islam that most people know. Interestingly, not only did we need to convince non-Muslims that Islam was not what they thought - but to a certain degree, also Muslims. Too many Muslims were being negatively infected by the harsh, irrational and ugly interpretations of Islam crafted by despotic and authoritarian influences to be passed off as "true Islam" to the undereducated. Too many Muslims had become disconnected from their own humanistic Islamic tradition and the Islamic ethics that once propelled Muslims and humanity to the height of civilization.

So we started out on this journey, open to where it would lead, asking God to guide us. Now, five years later, we are not at all where we could have imagined. We are living proof that while we plan, God plans! God's plan is always better, and often, nothing you could have ever anticipated or planned for!

For those who are interested in what our journey over these past five years have taken us, please keep reading, but beware that this is a long email! I have included lots of links in case you have time over the holidays and want to catch up on some of our past sessions! For those who are not familiar with what we are done, hang on to your hat. It is kind of a lot. For me personally, it is a lovely walk down memory lane as well as a bit of a shocker how much we have crammed into a relatively short amount of time, alhamdulillah (thank God!). I am grateful for every moment. If you don't have time for a long email, you can stop here. :)

Here are some highlights of what we were able to achieve since our founding:

In 2017, we launched our efforts with our first gathering at our home in Van Nuys, California on December 9, 2017.

In 2018, we started modestly with monthly halaqa (circle of learning) gatherings and conversations on the state of Islam. We discussed everything from history to current events to colonialism and Islamophobia, and why the youth were leaving Islam - anything that affected the current condition of Muslims. No question was off limits. We published our Statement of Values to convey our approach and convictions. We explained what Usuli was and how it differed as an approach or methodology. We didn't run away from controversial topics. For example, one of the hot topics at the time was the issue of Countering Violent Extremism (CVE), in which Professor Khaled Beydoun and Salam Al Marayati of the Muslim Public Affairs Council (MPAC) were on opposite sides of the issue. The two had never met in person to discuss the matter. In the spirit of open conversation, The Usuli Institute hosted their first face-to-face conversation with Dr. Abou El Fadl as the moderator. The discussion got heated at times, but one of the most heart-warming signs of progress was seeing Salam's post on Facebook over a year later with this picture and caption:
 
Salam Al Marayati on Facebook: "Great to hear Khaled Beydoun at MPAC-WNY Banquet. Reconciliation is a gift from God. We have to work together if we're serious in fighting corruption. His speech was fantastic, outlining Islam's contributions to civil rights in America."
 
In April 2018, we also hosted a conversation on Muslim Mental Health with Dr. Heather Laird, and held an Evening with Usuli to discuss the challenges confronting Muslims and Islam in America. In August, we hosted a conversation with Maryam Ramadan, daughter of Professor Tariq Ramadan, to give voice to the Ramadan family in the midst of a crisis that significantly affected the global Muslim community.
 

In October, we traveled to the Bay Area where Dr. Abou El Fadl spoke alongside Professor Noam Chomsky and Chris Hedges on the topic of Religious Nationalism and the American-Israeli-Saudi Alliance. During that same weekend, we offered our first "Ask Any Question Q&A," which focused on the Muslim convert experience. In November, we held a wonderful conversation between Professor Nader Hashemi and Dr. Abou El Fadl on the book Reasoning with God.

Significantly, in the summer of 2018 after a 20+ year hiatus, Dr. Abou El Fadl agreed to begin sharing his original commentaries on the Qur'an (tafsir) once again! This was the precursor to the Project Illumine series. We began with Surah 55: Al Rahman in the line-by-line traditional format, and by the end of 2018 had also completed three more chapters (surahs). By the end of 2018, we had delivered fourteen halaqas in addition to the conversations I mentioned above:
In 2019, one year before the start of Covid, Dr. Abou El Fadl began delivering weekly virtual Friday prayers to offer an alternative to the largely disappointing experiences of Friday sermons at large. By the end of 2019, he had delivered 49 khutbahs (sermons), and thus began planting the seeds that would eventually become the book series we now know as The Prophet's Pulpit: Commentaries on the State of Islam! Also in 2019, we continued our monthly halaqa sessions, now focused on the Qur'an. We completed 10 surahs (chapters) over 12 halaqa sessions:
In 2019, we also held some fabulous conversations, with Abdullah Alaoudh, the son of Shaykh Salman Alodeh, on "Saudi Arabia, Political Islam, and the State of the Middle East"; and Ramy Youssef on the challenges and opportunities for artistic expression in advancing faith, understanding, and the human side of being Muslim, after the release of his TV show, "Ramy," Season One. 
 

And lastly for 2019, my all-time favorite is that we launched "Real Talk with Mido and Baba," which was a conversation between our teenaged son and his father, where Mido could ask anything on his mind. Although we only filmed six episodes over two years, it was extremely heart-warming, valuable and insightful for all ages! It is fun to see how Mido grew up over the years!
 

In 2020, with the onset of Covid, since our work was already largely online, we were fortunate to be able to continue producing content without much interruption. Despite the very difficult test of Dr. Abou El Fadl losing most of his hearing in February of 2020, he continued to persevere in delivering khutbahs and halaqas throughout 2020. He delivered a total of 48 khutbahs in 2020, and completed two more surahs in the line-by-line traditional format:
In June 2020, Dr. Abou El Fadl dropped a bombshell, premiering a pilot episode of what would become the Project Illumine series - his own personal lifetime engagement with the Qur'an. Original to the Islamic intellectual tradition, this was his own understanding and demonstration of his findings that every surah of the Qur'an has a unique moral message as 114 separate parts of a complete overall message of the Qur'an. It is a thematic approach that has no equivalent in our tradition. Rather than try to explain the difference in his approach, he demonstrated it through the pilot episode on Surah 57: Al Hadid. The response was amazing. People were in tears and had never heard the Qur'an being discussed in a way that resonated so powerfully with their hearts and minds. We completed seven more pilot episodes and then decided to fundraise to launch an intensive immersion a la Project Illumine, setting out to complete all 114 chapters of the Qur'an according to this unprecedented approach. We took applications for research fellows, raised funds for a year-long immersion, and set our sights on a start date of January 2021. Here are the pilot episodes:
As they say, we planned and God planned. The last pilot episode covered Surah 29: Al Ankabut, the chapter that was revealed to the Early Muslims in preparation for their migration (hijra) from Mecca to Medina. It was a prescient surah and sign for all of us, as through a confluence of divinely planned events, we would soon find ourselves making our own migration with our 100,000+ book library from Los Angeles to Ohio, where we would resettle and soon embark upon the Project Illumine journey in earnest.
 

In January 2021, we landed in Ohio and immediately jumped into a rigorous schedule of intense halaqas (circles of learning) twice per week, deep diving into surah after surah after surah. We began with Surah 52: Al Tur and worked our way through all of the surahs that were revealed to the Prophet Muhammad (peace be upon him) while he was in Mecca, which brought us to the beginning of October:
We had completed 59 chapters in under ten months! More incredible was witnessing the sheer amount of work it clearly took for Dr. Abou El Fadl to arrive at the learning and knowledge he presented in even one surah, not to mention 59 surahs! He made it look effortless, and it became readily apparent that we were experiencing something divine and exceptional. 
 
By October, we had covered all of the revelation that the early Muslims had received in Mecca prior to their migration (hijra) to Medina. In other words, we had received the equivalent of what the early Muslims had received before moving to the next stage of development. With the coming chapters that were revealed in Medina, the tenor of the Qur'anic chapters would now change and we would be advancing to the next stage of learning - and accountability.

Next came Surah 2: Al Baqarah, the longest chapter of the Qur'an which required a 14 halaqa session engagement. After Surah Al Baqarah came Surah 65: Al Talaq, then Surah 3: Al 'Imran, which took six halaqa sessions of engagement! 
By the end of 2021, in total, we had completed 88 halaqa sessions and completed 62 out of 114 chapters of the Qur'an!

Meanwhile, Dr. Abou El Fadl was continuing with his powerhouse Friday prayers and khutbahs every week. By the end of 2021, he had delivered 45 khutbahs in total. All of this while teaching a full schedule of classes at UCLA Law School! Whew!

In 2021, we also had the honor of hosting incredible conversations with the legendary Dr. Tareq al-Suwaidan about "Building Muslim Leaders," and the amazing Lara E, aka GazanGirl, a human rights lawyer and Palestinian-American activist (and co-host of www.palestinepod.com) on "Understanding Palestine." And meanwhile, behind the scenes, we were working hard on something completely new for 2022...! 

In 2022, we launched Usuli Press and published our first book!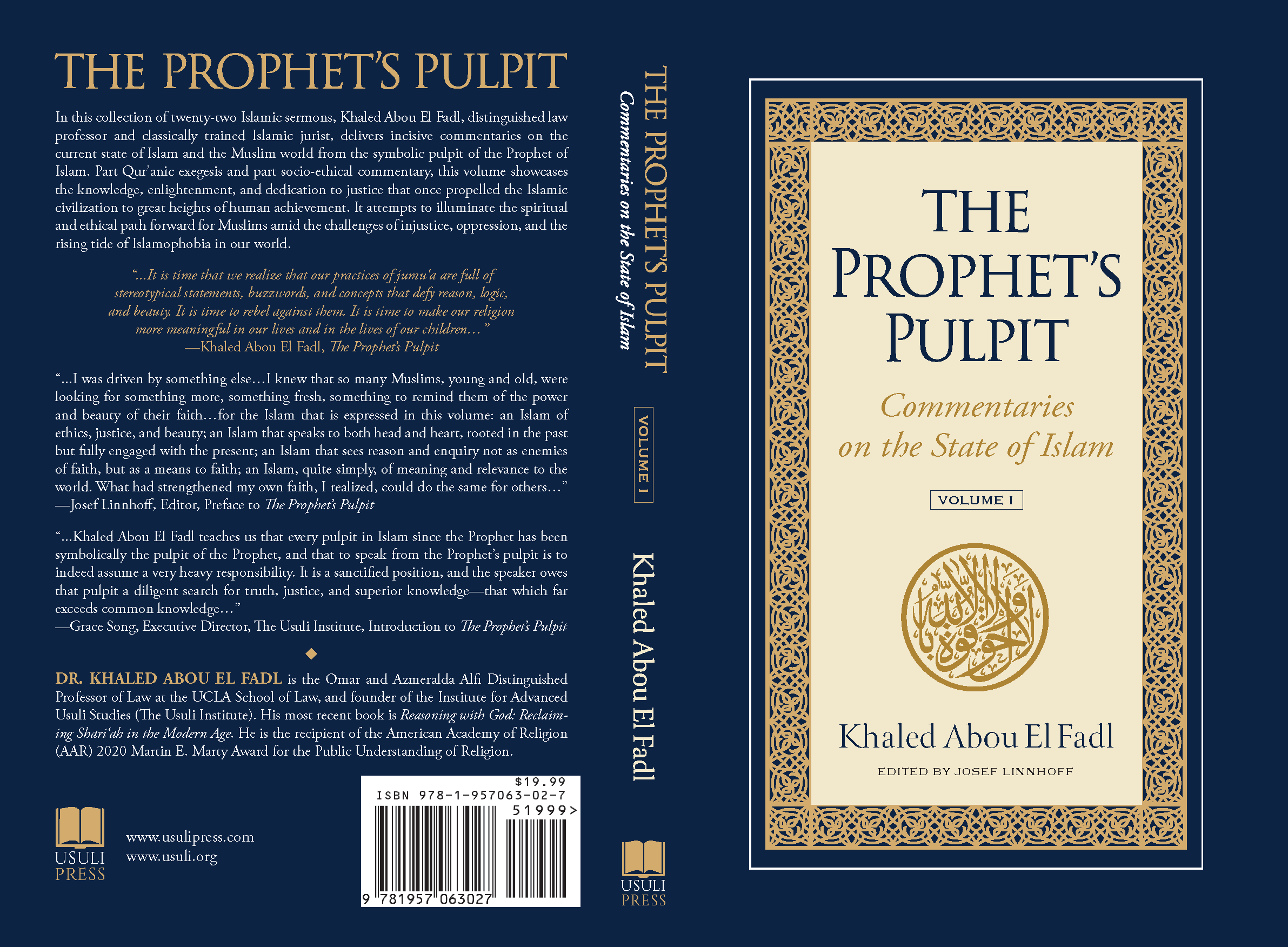 In Project Illumine, in 2022 to date, we have completed 17 surahs over the course of 53 halaqa sessions:
And as of today's khutbah, Dr. Abou El Fadl will have delivered 47 khutbahs for the year! We were also very proud to have tackled some ground-breaking topics including spiritual and sexual abuse; confronting death; and the real experience of Muslim converts, among others!

If you have made it this far, God bless and reward you for your patience, perseverance, and stamina in reading long emails! :) In the past five years, by my best calculations, we have delivered 189 khutbahs and presented 182 halaqa sessions, 149 of which are Project Illumine. In Project Illumine, we have completed 89 out of 114 surahs. After Saturday's session where we will cover Surah 89: Al Fajr and Surah 92: Al Layl, we will have completed 91 out of 114 surahs in Project Illumine, insha'Allah (God willing).

With both the line-by-line traditional method AND Project Illumine, Dr. Abou El Fadl has covered 113 out of 114 surahs! The only chapter he has not presented in any format is Surah 5: Al Ma'ida, which is the last revelation in which God is preparing Muslims for life after the Prophet Muhammad's mission has concluded (may peace be upon him). I am sure it will be unforgettable once we engage it insha'Allah. 

I am truly grateful and amazed at how quickly five years passes. I am blessed beyond words to be on this journey and to know from those who have reached out over the years that the work we do has been of value. I pray that God will present whatever is best for the future of The Usuli Institute, whatever it may be. I feel there is still so much work yet to be done, and I pray that God will continue to guide us all to reach our fullest potential, insha'Allah. Please keep us in your prayers and please continue to support our work if you can! We are so grateful you are with us on this journey! Happy 5 year anniversary to all of us! :)
 
Hope to connect with you online soon insha'Allah (God willing)!
 
In Peace and Hope,
Grace