---
Dear Friends,

Greetings of Peace! I pray you are well and enjoying the entrance of the new season, insha'Allah, wherever you are in the world. It is a beautiful and at times humid summer here in Ohio. This week, we experienced our first tornado warning, sirens and all. When we lived in California and there were tsunami warnings issued as a result of a distant earthquake, people would drive to the beach because they wanted to see the tsunami with their own eyes. We thought they were nuts. Being new to tornado warnings, when we heard the tornado sirens, suddenly we felt the urge to run outdoors to see the tornado with our own eyes. I am sure people in Ohio would think we were nuts. I guess the lesson is that you never know how you will react until you are in another person's shoes, so perhaps best not to judge..! :) [The tornado touched down an hour away from us and thank God there were no injuries that we are aware of, but a warehouse took the brunt of the damage. Thank God we did not see it with our own eyes!] 

First, an exciting announcement - Dr. Abou El Fadl will be in conversation with Farah El-Sharif, Associate Director at Stanford University's Abbasi Program in Islamic Studies, on his new book, The Prophet's Pulpit: Commentaries on the State of Islam on Thursday, 16 June 2022 at 12 pm PT / 3 pm ET! This will be a Zoom Webinar, so if you would like to attend, please register here: https://stanford.zoom.us/webinar/register/WN_zwdAaF8vRwWBuAxfTXi5sA God willing (insha'Allah), it will be a great book talk! Here is the flyer: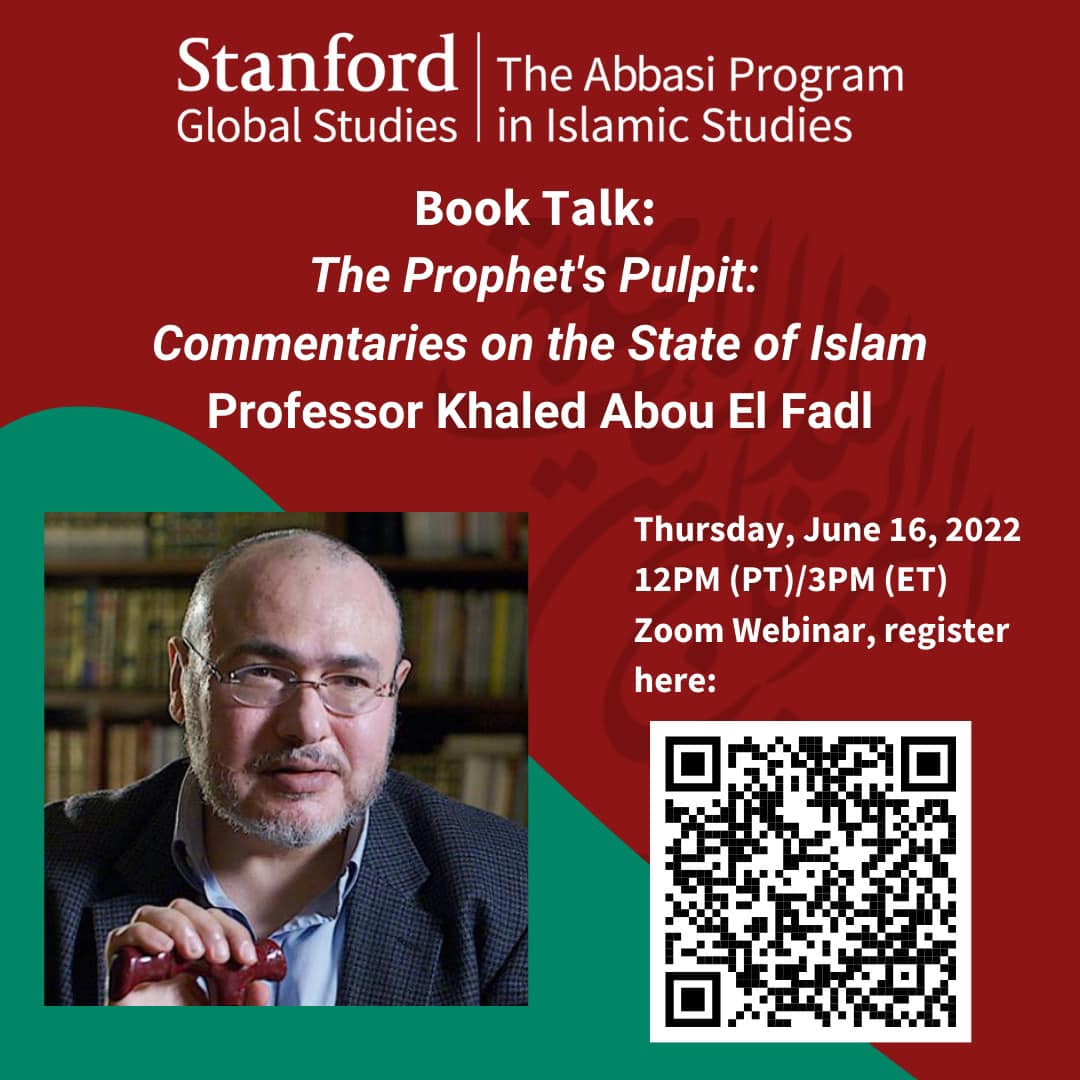 Register to join the Zoom Webinar here

ON CRITIQUING THE HAMZA YUSUF and JORDAN PETERSON PODCAST
At the beginning of the last two Project Illumine halaqa sessions, I critiqued the online conversation between Hamza Yusuf and Jordan Peterson, on Peterson's podcast, which at the time of this writing, has received over 1.6 million views on YouTube. Apparently, it was a long-awaited match-up, as Peterson, a well-known Canadian personality had previously interviewed Ayaan Hirsi Ali, Mustafa Aykol, and Mohammad Hijab in his quest to better understand Islam. As I mentioned in both sessions, having watched the podcast, I was struck by what I felt was the lost opportunity to articulate the beauty, humanity and connectedness of Islam, Judaism and Christianity, as Jordan Peterson's questions seemed to try to get at. In his discussions of Islam and the Qur'an, Hamza Yusuf rarely referenced the Qur'an itself, instead relying on hadiths and references to works by secular academics and authors. To me, it was a poor performance.

My first general critique in the Intro to Surah Al Hashr (Day 1)
For someone who has spent the last two years and over 500 hours intensively studying the Qur'an through Project Illumine halaqas, I felt that Hamza Yusuf's answers were lacking and failed to give clear, direct and intuitive responses that a non-specialist audience could connect with, and which are basic and foundational after this two year Project Illumine education. It was strange to me that one would NOT reference the Qur'an extensively in talking about the Qur'an and Islam. But I felt that rather than just offering my broad brush impressions of the talk, that I should follow up my general reaction with a specific demonstration - basically, if I didn't like his responses, instead of just critiquing, I should actually offer something as an alternative. So I did. I put forward how I would have answered four of Jordan Peterson's questions at the beginning of the last halaqa on Surah Al Hashr. (Day 2):  
Jordan Peterson and Hamza Yusuf Podcast on Islam and Qur'an: A Response
In the week since my response video has come out on YouTube, it has garnered a lot more views than our usual, as well as many more comments, clearly from people who are not familiar with the Usuli Institute or Project Illumine or me. It has been very interesting. I thought I would briefly comment on the experience of speaking up for whatever it is worth. 

It will come as no surprise of course that when someone like myself speaks in a Muslim space on an open forum, there will be people who love and hate what I do for a whole range of reasons. The fact that I don't wear a scarf is already a non-starter for many. I am extremely grateful for the many positive responses that I received after the fact. Yet, what I am most intrigued by is the criticism, especially by Muslims who were particularly unhappy that I dared to critique someone of Hamza Yusuf's stature. For anyone who is on social media, it is a well known fact that people are ready to fight over just about anything. People get snappy, argumentative and downright rude over the smallest issue. Things devolve very quickly, which is why social media is often so toxic. One would hope that is not the case among Muslims given the Qur'anic directive to always speak kindly, but this is simply not the case. 

I think most people get and appreciate that we are about critical thinking and challenging the status quo. We are about testifying to truth and being active in standing up for justice. We advocate doing something when we can make a difference instead of just complaining about why someone else isn't doing something. The better question will always be: what can I do to make this situation better? We have been learning consistently about sacrifice, doing good, speaking truth to power, and standing up for justice. I am blessed and grateful that I have the opportunity to communicate my thoughts in public, and that God has given me the wherewithal and passion to do so when I feel it is important to speak out. Speaking out comes with a cost. One must be willing to put up with the blow back that inevitably comes. Interestingly, many people were far more upset by the fact that I dared to say something critical of Hamza Yusuf than pleased that I was attempting to offer a better bridge to Islam and the Qur'an. Whether one likes my bridge better or not is left to the individual, but is it right to attack, demean or debase an educated Muslim's attempt to educate about Islam and the Qur'an?

Also, my answers to Jordan Peterson's questions were an attempt to demonstrate the learning from an intensive engagement with 79 surahs of the Qur'an. My constant hope is to convey the value of this learning and the excitement of this new avenue to connecting with the relevance of the Qur'an in our time. I get the feeling that because Muslims in our age don't believe that the Qur'an has anything to tell them about how to live in our times that they are nonplussed. Some people could not understand how I could challenge why Hamza Yusuf would not reference the Qur'an more frequently or more deeply when speaking about the Qur'an and Islam. This to me is a no-brainer and self-evident. Sadly, detractors were more interested in criticizing our channel, Dr. Abou El Fadl, and me personally - all because I dared present alternate answers to Hamza Yusuf's. Nothing I said could be construed as negative towards God, the Prophet Muhammad, Islam, Muslims or humanity. So for someone trying to educate others about the beauty of the Islamic message, what should be the appropriate response of fellow Muslims? Why the blow back at all? 

If we really reflect on the deeper meaning of this, it reveals we have such a long way to go. What are our priorities? If we look at the sheer numbers, our viewership is relatively tiny. Why should anyone care enough about what I am saying to even bother to comment at all, much less go to the effort to write really negative stuff? What is the point other than to try to break my spirit or try to "put me in my place" because I am not a scholar or because I am a woman without a hijab or some other reason? 

Yes, people can be really mean. But then again, this is the power of learning the Qur'an and working to testify on behalf of God to the best of my ability. We already know that people will often not react well to the message of the Qur'an. We know that when we surrender to God, we surrender only to God and not to human beings. We know that we all have a duty to testify before God, even if it against ourselves and those closest to us. We know that seeking knowledge is one of the most important responsibilities as a Muslim, and standing up for truth and beauty is part of standing up for the divine. All of this builds strength upon strength for people who want to serve the cause of educating others about Islam, like me. And for those who are fearful of speaking out or testifying, whether it is in public or before another person in private, I truly believe that God is with those who are on the side of light, as we continue to learn in Project Illumine. May God empower us all to testify.

We have been given a gift in these Project Illumine halaqas, and the more you engage with the gift, the more the gift returns to you. Now, as we embark this weekend on our 79th surah, insha'Allah, the burden and responsibility of this learning is at once elevating and weighty. It is enlightening and burdensome. Our accountability before God has increased, and our responsibility to share it with others has grown. I truly believe we have been given the gift of light in the midst of the extreme darkness of our times. For those who are truly seeking, it is a lifeline. What we do with this gift is the test. May we all pass, insha'Allah! 

Looking forward to seeing you online for our khutbah today and tomorrow night at 6 pm ET FOR A NEW SURAH! Please keep all of us in your prayers!! May God keep you and your loved ones safe and protected and on the most beautiful path always! Hope to see you online soon insha'Allah!

In Peace and Hope,

Grace Song
Executive Director
The Usuli Institute
grace@usuli.org