---
Dear Friends,

Al salamu alaykum wa rahmatullah wa barakatohu! I pray that your Ramadan is going well and that "fasting brain" has not been too debilitating insha'Allah! :) It is amazing how quickly the first week of Ramadan has already passed. I feel like I need to savor every moment and grab hold of the time so it doesn't pass too quickly!

We finished Surah 4: Al Nisa'!
Alhamdulillah that after eleven halaqa sessions, we were blessed to complete Surah 4: Al Nisa' last Saturday, and what a journey it was! We covered a lot of familiar ground in our journey, reexamining verses, words and ideas that we had heard hundreds of times over, but never stopped to investigate and truly reflect upon. I believe that when you feel the meaning of the Qur'an in your heart and you understand the message in this way - at a deeper, clarifying and humanistic level - it only strengthens your confidence in and empowerment from your faith. The power of knowledge grants liberation like nothing else, especially in our dark times as Muslims. I am really looking forward to the Q&A for Surah Al Nisa' at tomorrow's halaqa. Please feel free to send me your questions at grace@usuli.org in advance of the halaqa, preferably by noon, Eastern Time. 

Virtual live-streamed Taraweeh Prayers!
With the start of Ramadan, we have once again been live-streaming nightly Taraweeh prayers! If you would like to join us in prayer virtually, be sure to subscribe to The Usuli Institute YouTube channel and you will get notifications when we go live. We usually go live sometime between 10:30 pm to 11:30 pm ET, depending on the day. 

Catch up on Usuli Institute Content!
It is really stunning how much content we have created since we began Project Illumine in earnest last January 2021. If you just do a search on the Usuli Institute, you will get a wealth of content, whereas a year ago the main link that would come up would describe Usuli as a religious movement by Persian Shiite Muslims in 17th century Iran! What a difference a year makes as we try to tilt the Artificial Intelligence about Muslims and Islam towards the positive on the Internet!

If you have the blessing of more time or headspace during Ramadan to dedicate to learning, be sure to watch some of our recent events that were especially transformative and eye-opening:

Master Class on Muslims, Race and Law: Experience Professor Abou El Fadl's UCLA Law School class on Muslims, Race and Law! In this session, he discusses the history of Black Muslim movements in the U.S.; post-colonial history in the Middle East; and the politics of Saudi Arabia, among many other things. Importantly, it is an edifying, holistic view of the history, dynamics, challenges and place of Muslims today as a racialized group.

Dispelling Myths from an Islamic Perspective: Q&A on Sexual and Spiritual Abuse:
Transparent, honest and empowering. This is a discussion to be shared far and wide - we cover an important list of questions that many people have about what to do in cases of abuse, especially at the hands of religious authority.
We are working on Part 2 soon insha'Allah (!) to address more myths, misconceptions and misapplications of Islamic law in approaching the issue of spiritual and sexual abuse. If you have any questions you would like to suggest, please do write and let me know.

Keynote Lecture to the 2022 National Muslim Law Association Conference: Dr. Abou El Fadl shares his experiences as a Muslim pioneer - the only Muslim in his law school class - and throughout his 30-year career as a law professor at UCLA Law School. Given the climate for Muslims in America now, it is an opportune time for Muslim lawyers and aspiring lawyers to think beyond the prestige, paycheck and power that lawyers can achieve. Dr. Abou El Fadl counsels the importance of considering what God would find most pleasing in yielding that path to power in the service of social justice and the disempowerment of Muslims everywhere.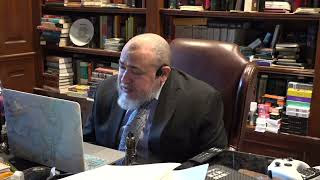 Ramadan Matching Gift Program - Double your impact!
We have created a new LaunchGood campaign to draw more attention to our Matching Gift Program for the month of Ramadan! (You can donate through LaunchGood, The Usuli Institute website or through our PayPal page - ALL DONATIONS WILL BE MATCHED!)

MATCHING GIFT PROGRAM - DOUBLE YOUR IMPACT DURING RAMADAN!

Some very kind souls have gifted us the ability to hold our very first Matching Gift Program during the month of Ramadan! So, all during our blessed month, every donation to The Usuli Institute will be matched dollar for dollar up to $40K! You can double your impact with your support! Alhamdullilah, we are so grateful that this opportunity will increase blessings for all involved insha'Allah! Please spread the word and mark your calendars! I pray that we can take full advantage of this blessed gift over the course of the month!

Give the Gift of Knowledge! Virtual Book Sale!
Next, a Ramadan gift for yourself and others! Give the gift of knowledge! In conjunction with our virtual events, our publisher is running special discounts on three of Dr. Abou El Fadl's amazing books! Take 30% off the paperback versions ONLY:
1) Reasoning with God: Reclaiming Shari'ah in the Modern Age Reg. $32.00 / Sale: $22.40

2) The Search for Beauty in Islam: A Conference of the Books Reg. $54.00 / Sale: $37.80

3) And God Knows the Soldiers: The Authoritative and Authoritarian in Islamic Discourses Reg. $43.99 / Sale: $30.79

ORDER NOW on Rowman.com and use code RLFANDF30 at the checkout!
 
These books are absolute MUST READS for every thinking Muslim! This is the perfect time to load up your Ramadan reading list and get some amazing books at great prices! :) For those who want to know more about Usuli Institute methodology and the scholarship of Dr. Abou El Fadl, these books are gems.

Looking forward to seeing you online for our khutbah today and the Q&A on Surah 4: Al Nisa' - Day 12!!! - tomorrow night at 6 pm ET. 

I pray that every day will bring you love, mercy, forgiveness, acceptance and elevation from our Beloved Maker. May you reach your Ramadan goals, and may God aid and sustain you on your journey insha'Allah! Please keep all of us in your prayers as we continue on our mission to complete and publish the entire Project Illumine tafsir in book form! May God keep you and your loved ones safe and protected and on the most beautiful path always! Hope to see you online soon insha'Allah!

In Peace and Hope,

Grace Song
Executive Director
The Usuli Institute
grace@usuli.org