---
Fervent Greetings of Peace dear Friends,

I pray that you are safe, healthy, and well in these challenging times. This week, I had the great honor and blessing of having a very unusual conversation with my friend, fellow convert, and long-time Usuli supporter, Cameron Lee. Cameron is 38 and has been battling cancer since 2016. We were very saddened to learn that he recently found out his liver is failing. His doctors are not optimistic that he will have much more than a month or two to live. 

It is a serious test and yet also a blessing to know that the end of your life is before you. Cameron agreed to have an open and frank conversation with me about his conversion, life, death and reflections on the Muslim experience. I told a little bit of his story back in 2018 in my introduction to the third Usuli halaqa, and shared that he had found Dr. Abou El Fadl's work while he was in high school. Although Cameron would come to believe that Islam was the true message, he did not want to give up certain comforts like pork and alcohol, so he held off from converting so as not to officially break any rules. If he hadn't officially taken the shahada, he told himself, then he was not "officially" committing a sin by continuing his lifestyle practices. As he shares in our conversation, this continued for sixteen years until he felt that God gave him an ultimatum through giving him cancer - time to choose between whether he preferred his Hereafter or his whiskey (!). He chose wisely. :)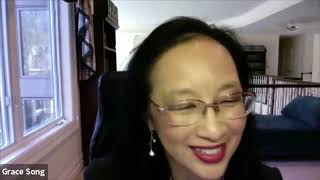 On Life at Death: An Usuli Institute Conversation with Cameron Lee and Grace Song, 6 March 2022
It was a touching, heartfelt and sometimes serious conversation, in particular when he shared a vivid dream about his death. It is a reminder of how precious life is and how meaningful - it definitely put things in perspective. I hope you will watch and let me know your thoughts!

Please keep Cameron in your prayers! Also, if anyone can help me with this favor, I would be forever grateful! I would love to grant Cameron a wish that we have talked about for as long as I have known him. He has always wanted a dog, but has never had the opportunity between work and illness. I have been looking for a way to have a therapy dog pay Cameron a visit or two (or more) in the Sterling, VA area, but have not had any luck finding any options yet. If you know anyone in the Sterling, VA area that either has a therapy dog connection, or just a sweet dog that would like to bring a kind human being some doggie love, please get in contact with me! :) I am certain it would be an opportunity to earn serious blessings! 

MARK YOUR CALENDARS! UPCOMING EVENT!
Next Sunday, March 20th at 4 pm EST, we will be holding our virtual Q&A event on: Sexual and Spiritual Abuse: Dispelling Myths from an Islamic Perspective, Q&A with Dr. Khaled Abou El Fadl. 
It has become clear that this is a serious and pervasive problem in our community that does not often get addressed because of the sensitive and taboo nature of the topic, which thrives in darkness and silence at the expense of victims. There is a lot of confusion surrounding the Islamic obligations of the community, those in positions of leadership, brother to brother, sister to sister and every other complex relationship in between. We thought it would be extremely valuable to hold a curated Q&A with Shaykh Abou El Fadl to elevate our collective understanding on some of the most commonly held misconceptions and frequently asked questions about our role and responsibilities as ethical Muslims. You may recall that Dr. Abou El Fadl spoke candidly and powerfully about these issues in two previous khutbahs entitled, "The Unspoken Truth (Haqq) About Sexual Abuse and the Rights of Victims," and "What Occupies Your Heart? And More On Wolves in Shaykhs' Clothing." 

Please join us for what promises to be a powerful and transparent conversation as you can imagine and have come to expect from Shaykh Abou El Fadl. 
Last week's khutbah was out of this world! One friend called it a "face-melter"! :) I am looking forward to today's khutbah and tomorrow's continuation (Day 8!) of the revolutionary Surah 4: Al Nisa'. Hope you will join us online!

Please keep all of us in your prayers as we continue on our mission to complete and publish this entire Project Illumine tafsir in book form! May God keep you safe and protected and on the most beautiful path always! Wishing you a blessed weekend and hope to see you online soon insha'Allah!

In Peace and Hope,

Grace Song
Executive Director
The Usuli Institute
grace@usuli.org
---