---
Al salamu 'alaykum dear Friends,

I pray you are well! First, some great news - starting next Tuesday, 21 June, we will be going back to two halaqa sessions per week for the summertime! Yay! It's like finding out that there are more episodes coming out sooner than you thought for your favorite Netflix show! :) Hopefully, this means we can more quickly advance on Surah Al Nur and the remaining 34 surahs (without rushing!) as we get closer and closer to the end of our Project Illumine journey. That is an amazing, somewhat bittersweet idea - the fact that we are much closer to the end than the beginning of this journey is truly a mind-bender. I am shocked that we are already on our 80th surah and almost two years in on this journey. It doesn't feel like it. Alhamdulillah!

Yesterday, we were blessed with an incredible conversation between Dr. Abou El Fadl and Dr. Farah El-Sharif, the Associate Director of the Abbasi Program on Islamic Studies at Stanford University on the topic of The Prophet's Pulpit as well as Dr. Abou El Fadl's scholarship, convictions and outlook. Dr. El-Sharif was a brilliant interlocutor and asked powerful questions that elicited important insights on a wide range of topics. The recording is now available on our YouTube channel and here: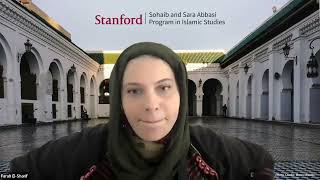 Khaled Abou El Fadl on The Prophet's Pulpit, Shari'ah and Justice
Stanford Webinar with Dr. Farah El-Sharif
16 June 2022

Here were some of the great questions:

1) After all of your years of research and all of your years of being a classically trained Islamic jurist and Islamic law specialist, what is it that most people get wrong about Shari'ah?

2) You've earned yourself a lot of detractors over the years; you've been called a liberal by some, a progressive by some; a Mu'tazili; most recently, I see you have been dubbed a Qur'anist - which to me, you know you are doing something right when you are annoying people from all these camps. What do you make of all of these labels and polemics on you or on your work?

3) The Prophet's Pulpit is "...dedicated to Muslims around the world suffering under oppression and injustice." Justice is a central edict to your work and your worldview and arguably you say this is a central Islamic, Qur'anic and prophetic edict that should be at the core of an Islamic worldview all together...with the bleak situation of Muslims around the world and the lack of action among Muslims leadership, where is justice going to come from in your view, and what is your theory of change?

4) What does the Qur'an teach us about justice and how can the Qur'an give us the hope that we need? 

You can imagine the richness of the answers that came from those questions - there was so much gold! Look forward to some good excerpts in the future! Dr. Abou El Fadl had the opportunity to talk about the convictions that drive his scholarship; why he holds a wide range of views from a wide range of seemingly incongruent approaches and schools of thought; and even what an Islam without God looks like (hint: a book called "What is Islam"). All in all, a very rich discussion that is absolutely worth watching if you missed the webinar!

On My Reaction to the Reaction to My Reaction to the Hamza Yusuf and Jordan Peterson Podcast
We have learned through the Project Illumine tafsir halaqas that there are no coincidences. Very interestingly, what many of us have noticed throughout the Project Illumine journey is that the surah that we are covering at any given time has more often than not exactly addressed what was happening at that moment in time with someone or something here, in parallel to the halaqas. So for example, the specific lessons we were learning or ethics we were being taught to abide by in the halaqas often correlated to an ethical challenge that one or more of us were confronting. It has happened so often that we have truly seen in practice that there are no coincidences, although it still does not fail to send a shiver down the spine or be cause for a sudden, "Oh my God!" either individually or as a group. Normally, this dynamic happens to one of us students, not the Shaykh. Interestingly, after my intro to Surah Al Nur last weekend in which I reacted to the reaction to my reaction to Hamza Yusuf's responses on Jordan Peterson's podcast (!), the Shaykh admitted that he was quite surprised, to say the least, that Surah Al Nur was in part addressing the controversy around Aisha, the Prophet's wife, and how people around the Prophet including his companions wanted the Prophet to effectively bring his wife in line, either by divorcing her, interrogating her, silencing her or chastising her in some way for accepting a ride back to Medina from the battlegrounds when her caravan accidentally left her behind. People wanted to believe that she had acted inappropriately - or worse. They were stirred up by the controversy and people wondered how it could be that a woman could be so bold as to act out of the prevailing norm, although she was a woman of moral character and married to the Prophet. By attacking her character, they were also assailing the character of the Prophet. She insisted she did nothing wrong although many wanted to believe otherwise, and continued their gossip, harsh words and harassment. The Prophet (pbuh) did not accuse, blame or take any action against her despite the pressure from many in the community to do so. This continued until ultimately, God vindicated her. Among the many lessons that we began to learn from Surah Al Nur on our Day 1 halaqa is the presumption of good moral character for any Muslim - and the immorality of slander, gossip and backbiting.

The Aftermath of Critiquing Hamza Yusuf
From my experience of the last few weeks - acting against the prevailing norm, speaking up without a hijab, and critiquing Hamza Yusuf on an open forum - it seems these initial lessons from Surah Al Nur were quite apropos. We have received many ugly comments on YouTube and on social media, which continue to come. But I have also received some of the most beautiful messages I have ever received in my life - messages that I will cherish forever. The whole experience was full of important lessons that I would not trade, not the least of which is the power of light over darkness, continuously reinforced in countless ways along this Project Illumine journey! Thank you to everyone who was a source of light, kindness and inspiration. Allah knows who you are and may Allah reward you with much better for your kind words, sentiments and prayers! Okay, done with this topic! Onward and upward! :)

Looking forward to seeing you online for our khutbah today and tomorrow night at 6 pm ET for the continuation of Surah Al Nur! Please keep all of us in your prayers!! May God keep you and your loved ones safe and protected and on the most beautiful path always! Hope to see you online soon insha'Allah!

In Peace and Hope,

Grace Song
Executive Director
The Usuli Institute
grace@usuli.org